What's the 30 Days of Bookery?
Are you a thinker of thoughts? Do you love the Avengers? Then I have the book for you.
The Avengers and Philosophy: Earth's Mightiest Thinkers
edited by Mark D. White.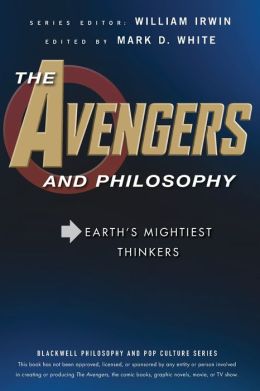 Summary from
Goodreads
Avengers assemble! Tackling intriguing dilemmas and issues that no single great philosopher can withstand, this powerful book enlists the brainpower of an A-list team of history's most prominent thinkers to explore the themes behind the action of Marvel Comics' all-star superhero team.

Arms you with new insights into the characters and themes of "The Avengers." Deepens your appreciation both of "The Avengers" comics and the Joss Whedon movie adaptation. Answers the philosophical questions you've always had about Earth's Mightiest Heroes, including: Can a reformed criminal become a superhero? Can an android love a human? If a hero beats his wife, is he still a hero? Helps you think differently about the members of the superhero team--Captain America, Iron Man, Thor, and the others.
This book is mostly based around the comics, and includes more of the Avengers than were in the movie. So if you like comics and in-depth analysis of pop culture, this is the book for you.
How you enter:
+1 entry for commenting (commenting is mandatory to enter)
+1 entry for sharing on Twitter or Facebook
+1 entry for following the blog
+1 entry if you've never won a contest here before
+1 entry for adding up your own points
This contest is international. Contest ends midnight PST, on January 31st.